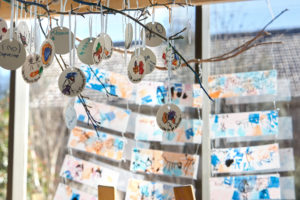 Our Kindergarten Philosophy is influenced by the Victorian Early Years & Development Framework "Belonging, Being and Becoming".
Our belief is that children are successful, competent and capable learners and we provide an environment which encourages exploration and experimentation.
Vygotsky Social Development theory suggests cognitive development stems from social interactions, environment and play. Educators at St Augustine's share this belief and set out an environment to encourage social interactions across all areas of our Kindergarten by offering children choice of play. We have available to children a dedicated art space, outdoor area and activity room which are open during our sessions allowing children choice of where they would like to be. Children learn best through active play exploration. Types of learning opportunities include literacy, numeracy and science concepts such as counting, matching, sequencing, rhyming, language text, meaning and experimentation by hypothesising and inquiry. These are achieved through intentional teaching or incidental social play. We embrace technology as a learning tool to extend children's ideas and thinking.
We provide an environment that is safe, challenging and promotes creativity while stimulating the imagination in a fun and creative manner. Uninterrupted creativity occurs in an environment which allows children to build resilience through risk taking in all areas of development and allows collaboration and communication with peers and adults through interactions and relationships.
We value and respect the diverse cultures of families within our community and encourage families to be involved in our Kindergarten through Stay and Play, family events during the year as well as committee involvement. We recognise parents and family as a child's first and most influential educator and as such are important members of our Kindergarten community. We take time to listen to develop trusting relationships based on mutual respect. We value culture and diversity and recognise and share individual backgrounds and customs of each family. As children not only belong to our Kindergarten community but also the wider community, we see the importance of building relationships with local schools and community groups.  We acknowledge that our Kindergarten is on traditional lands of the Wurundjeri Tribe of the Kulin Nation and that this land continues to be sacred to them and pay our respects to Elders past and present.
We value sustainability and respect for the environment and model sustainable practices within our program including reuse, reduce and recycle. We have animals in our Kindergarten and food scraps which the children collect from lunch, snack and from home are used to feed our animals which helps minimise waste.