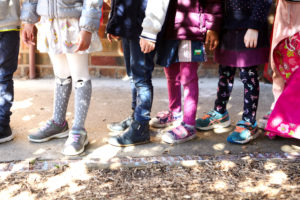 A child may apply to enrol at any time after the child has turned two years of age and no later than the 30th June in the year preceding attendance. Late applications will be considered.
Enrolment must be made through the Central Enrolment system of the Whitehorse Pre-School Association.
To download an Application Form please visit the WPSA website or click here.
Positions are offered provisional on all relevant documentation being received on request.  This includes a copy of a Health Care Card, Pension Concession Card (if relevant) or similar to be returned with the offer acceptance and deposit. Immunisation information is required for your child to attend an early childhood service to meet the No Jab No Play legislation.
The State Government provides funding to support children to access a kindergarten program in the year before they start school. The funding is a contribution towards meeting the cost of the kindergarten program and is based on the number of children enrolled in the program at a service. Your child can attend only one funded kindergarten program in a single year.
Immunisation – No Jab No Play
The Victorian Government has passed new immunisation legislation named 'No Jab, No Play', which took effect on 1 January 2016.
'No Jab, No Play' aims to reduce the risk of vaccine-preventable diseases through increased immunisation rates in the community.
The legislation requires all children enrolling in early childhood education and care services to be up to date with their vaccinations or to have an approved exemption. This includes long day care, kindergarten, occasional care and family day care.
From 1 January 2016, all parents/guardians seeking to enrol their child at an early childhood service in Victoria must provide evidence that their child is:
fully immunised for their age OR

on a vaccination catch-up program OR
unable to be fully immunised for medical reasons.
On enrolment you must provide copy of your child's most recent Immunisation History Statement from the Australian Childhood Immunisation Register (ACIR) as evidence of your child's immunisation. 
For more information, visit http://www2.health.vic.gov.au/public-health/immunisation/vaccination-children/no-jab-no-play/frequently-asked-questions
Enrolments : Carolyn Stewart
Phone: (03) 0409 751 404
Email: st.augustines.anglican.kin@kindergarten.vic.gov.au